4路网络视频监控系统130万高清30米红外包含:一台4路POE录像主机内置1 TB 容量硬盘2台TRENDnet TV-IP320PI 室外型夜视红外摄像头130万高清摄像头,红外30米支持最多4 台PoE 摄像机,即插即用视频录像达到高清@1080p一周的录像时间ONVIF兼容支持手机APP管理
TRENDnet's standalone 4-Channel HD PoE NVR Kit, model TV-NVR104K, offers a comprehensive video display, storage, and management solution which features a plug and play PoE camera installation*. The TV-NVR104K comes with a pre-installed 1 TB hard drive and two powerful TV-IP320PI Outdoor 1.3 MP HD PoE IR Network Cameras. The NVR networks and powers up to four PoE cameras*, auto-recognizes TRENDnet cameras, records over 6.5 days of continuous video**, and supports advanced video playback.
All-in-One HD NVR
This HD NVR comes with a pre-installed 1 TB hard drive, two 720p PoE outdoor cameras, network cables, and a mouse. (display sold separately)
Plug, Play, & Power
The NVR auto-recognizes and powers TRENDnet PoE cameras—simply connect the two included 720p cameras and add up to two more TRENDnet PoE cameras.
Intuitive Interface
Users will find the management interface intuitive and easy to use—quickly navigate live view preferences, recording schedules, and advanced playback options.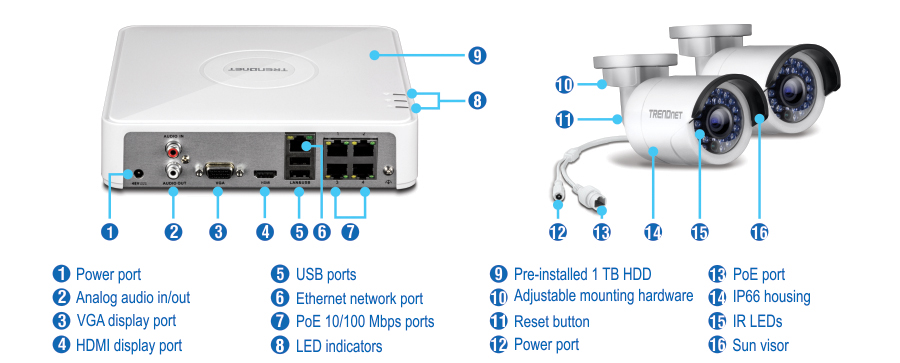 TV-NVR104 Hardware
PoE Ports
Plug and play PoE network cameras to the four PoE (IEEE 802.3af) ports with a total PoE budget of 35 Watts
Storage Bay
Pre-installed 1 TB SATA hard drive
Network Port
Ethernet network port
Display Ports
HDMI and VGA display ports
Audio Ports
Audio in and out ports
USB Ports
One USB port for the included mouse and one for configuration backup and firmware upgrade
TV-NVR104 Management
Remote Access
Access the NVR over the internet
Camera Setup
Auto-recognizes compatible TRENDnet cameras*
Live View
Single camera and quad-view modes with variable-time auto-scan function
Camera Management
For each camera, manage on screen display, image settings, PTZ functionality, motion detection, privacy masks, tamper detection, and video loss
Video Recording
Record up to Full 1080p HD video at 30 fps in H.264 compression (included TV-IP320PI cameras record up to 1280 x 960)
Recording Time
(A) 6.5 days of recording per camera: 4x cameras with continuous recording at 1280 x 960 at 30 fps
(B) 8.5 days of recording per camera: 4x cameras with continuous recording at 720p at 30 fps
Scheduled Recording
Create weekly continuous and motion detection recording schedules for each camera with video overwrite when storage is full
Advanced Playback
Advanced archived video playback with a quick reference timeline and calendar
Video Export
Quickly export specific video types over a specified time
Dynamic DNS Support
Support for dyn.com and NO-IP.org
IPv6
IPv6 support
ONVIF
ONVIF compliant
TV-IP320PI Hardware
Adjustable Bracket
Fully adjustable integrated mounting bracket provides installation flexibility
PoE
Save installation costs with Power over Ethernet (IEEE 802.3af)
Outdoor Ready
Outdoor IP66 weather rated and an operating temperature range of -30 – 60 °C (-22 – 140 °F)
1.3 Megapixel
Record 1280 x 960 pixel HD video at 30 fps in H.264 compression
Night Vision
Night vision up to 30 meters (100 ft.) in complete darkness
Smart IR
Dynamic IR adjustment optimizes night visibility
D-WDR
Digital Wide Dynamic Range improves video quality in high contrast lighting environments
IPv6
IPv6 support
ONVIF
ONVIF compliant
---
---
TV-NVR104 (with 1 TB HDD)

Video Input

4 PoE channels

Video Output

HDMI and VGA display outputs

Resolution: 1920 x 1080 (1080p), 1280 x 1024, 1280 x 720 (720p), 1024 x 758 @ 60Hz

Audio

Analog audio in/out (2.0 Vp-p, 1kΩ)

Storage

Supports one 3.5" SATA I/II HDD

Comes with a pre-installed 1 TB HDD. Upgradeable to 6 TB SATA I/II HDD)

Network Standards

IEEE 802.3

IEEE 802.3u

IEEE 802.3x

IEEE 802.3af

Device Interface

10/100 Mbps network port

4 x 10/100 Mbps PoE camera network ports

2 x USB 2.0 ports

HDMI port

VGA port

Analog audio in port

Analog audio out port

Power port

LED indicators (Power, Storage, and Network)

Grounding point

Network Protocol

IPv4, IPv6, UDP, TCP, ICMP, ONVIF v2.2

DHCP, NTP, DNS, DDNS, SMTP, FTP

HTTP, UPnP, RTSP, RTP, RTCP

Power

Input: 100 – 240 V AC, 50/60 Hz, 1.5 A

Output: 48 V DC, 1 A

Consumption: 50 Watts (with HDD and Max. PoE PD

PoE power budget: 35 Watts

Operating Temperature

-10 - 55 °C (14 - 131 °F)

Operating Humidity

Max. 95% non-condensing

Certifications

CE

FCC

Dimensions

199 x 199 x 47 mm (7.8 x 7.8 x 1.8 in.)

Weight

1.2 kg (2.1 lbs.)

Management Interface

Live view: Single camera or quad-view

Camera management*:

On screen display: camera name, date, week, and date format

Image quality: brightness, contrast, saturation, hue, mirror

PTZ: pan, tilt, zoom, focus, iris, preset points, pattern, cruise, patrol

Motion detection: define custom motion detection areas, motion sensitivity, and triggering channels

Privacy masks: define custom privacy mask areas

Video tamper detection: trigger actions if the viewing field darkens suddenly

Video loss detection: trigger actions if the setup video is lost

Scheduled recording: continuous and motion detection

Video recording: Record up to Full 1080p HD video

Recording time**: (A) 6.5 days of recording per camera: 4x cameras with continuous recording at 1280 x 960 at 30 fps; (B) 8.5 days of recording per camera: 4x cameras with continuous recording at 720p at 30 fps

Holiday scheduling for custom recording schedules during observed holidays

Advanced playback: playback multiple channels simultaneously and search video recordings with special event or tag

Video export: tag, cut, and export video clips

HDD: Encoded disk formatting, S.M.A.R.T. disk health monitoring and testing, bad sector detection, storage quota allocation to each video channel, recycle old recordings or send disk full warning to administrator by email

USB external storage: firmware upgrade, import/export configuration file and logs, export recorded video files, search and playback videos directly from external storage

Local live view settings: define screen layout and channel viewing sequence

Alert messages: storage full, storage error, network disconnected, IP conflict, illegal login, and recording exceptions

Supported dynamic DNS services: Dyn.com and NO-IP.com

Management Setting: maximum 32 user accounts

Traffic chart and statistics for network management

IPv6 support

ONVIF compliant

Remote Viewing and Management

User interface compatible with Internet Explorer® 9.0 or higher, Firefox® 13.0 or higher, Safari® 4.0 or higher, Chrome™ 24.0 or higher

TV-IP320PI

Lens

Focal length: 4 mm

Focal depth: 20 cm +

Aperture: F2.0

Board lens

Sensor: 1/3" progressive scan CMOS

Viewing Angle

Horizontal: 70°

Vertical: 52°

Diagonal: 89°

Zoom

User-defined digital zoom

Minimum Illumination

IR off: 0.01 lux

IR on: 0 lux

30 meter IR illumination distance

Smart IR

Video

D-WDR: 0-100 scale

Shutter speed: 1/3 - 1/10,000

H.264: 1280 x 960 up to 30 fps

MJPEG: 704 x 480 up to 30 fps

Hardware Standards

IEEE 802.1X

IEEE 802.3

IEEE 802.3u

IEEE 802.3x

IEEE 802.3af

Device Interface

10/100 Mbps PoE port

Power port (for non-PoE installations, power adapter sold separately (12VDC1A))

Grounding point

Integrated articulated mounting base

Reset button

Housing

Weather rating: IP66

Network Protocol

IPv4, IPv6, UDP, TCP, ICMP, ONVIF v2.2

DHCP, NTP, DNS, DDNS, SMTP, FTP, SNMP (v1, v2c, v3)

NFS, SMB/CIFS

HTTP, HTTPS

PPPoE

UPnP, Bonjour, RTSP, RTP, RTCP, SSL

Operating Temperature

-30 - 60 °C (-22 - 140 °F)

Operating Humidity

Max. 95% non-condensing

Certifications

CE

FCC

UL 60950

Dimensions

60 x 60 x 152 mm (2.4 x 2.4 x 6.2 in.)

Weight

375 g (13.2 oz.)

Power

Input: PoE (802.3af)

Consumption: 7 Watts max.

Optional Power Supply (Sold separately)

Output: 12 V DC 1 A

5.5 mm barrel connector

TRENDnet power adapter, model 12VDC1A, sold separately

Management Interface

Multi-language support: English, French, German, Russian, and Spanish

IP address filter

QoS traffic prioritization

Time, date, and text overlay

Image settings: brightness, contrast, saturation, sharpness, smart IR, exposure time (1/3 – 1/100,000), video standard, day/night switch, sensitivity, switch time, mirror, D-WDR, white balance, digital noise reduction

D-WDR enhances video quality in high contrast daytime lighting

3D Digital Noise Reduction enhances night vision quality

Scheduled recording: continuous and motion detection

Video storage: to computer, NAS, SMB/CIFS share, or through software

Motion detection fields: define custom motion detection areas, motion sensitivity, and dynamic motion analysis

Privacy masks: define custom privacy mask areas

Video tamper detection: email notification if the viewing field darkens suddenly

Video playback interface: playback recorded video from remote storage

Browser video playback: advanced playback functionality with visual timeline displaying detected motion and scheduled recordings

Alert messages: storage full, storage error, and illegal login

Snapshot: real time snapshot, motion detection with schedule, video tamper detection with schedule

Supported dynamic DNS services: Dyn.com and NO-IP.com

Management Setting: maximum 32 user accounts

Supports remote management

Compatibility: Internet Explorer® 9.0 or higher, Firefox® 13.0 or higher, Safari® 4.0 or higher, Chrome™ 24.0 or higher

Warranty

TV-NVR104: 2 year limited

TV-IP320PI: 3 year limited